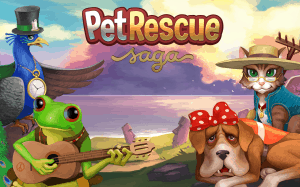 Pet Rescue Saga is one of those Facebook game that people from all around the world play. There are actually millions of gamers that enjoy absolutely everything that is offered. While at a first glance you can easily see that the game is simple, after you spend some time playing, everything becomes more complicated. That is definitely not the case. It is a guarantee you will notice that lives start to be lost, without you really knowing why that is the case. At the same time, some of the levels are incredibly complex. One example is level 131 of Pet Rescue. There are hundreds that have problem with them. You may want to consider the following tips to increase your chances of success.
Be Careful With Your Game Lives
Never play a level until you are sure that you have the time that is needed to finish it. This is true for when you are successful and when you fail. Unfortunately, if you leave the game, you lose one life. You will then have to wait for half an hour until you will get a brand new one. That is something that many do not actually understand.
Use Boosters Wisely
Most people that play Pet Rescue Saga simply want to use boosters as fast as possible. They believe that boosters guarantee that levels will be passed really fast. This is incorrect. Boosters are aimed to help you increase the chances of success but they do not guarantee that success. The game is built on a random algorithm. You never know if the new colors that appear are going to help you or not. With this in mind, do have patience and take your time before you actually use the game booster. You will use one or two when you are close to finishing, only if you are 100% sure that you will succeed. This is very important and can help you to save a lot of cash.
Watch Game Videos
This may seem as being common sense but the truth is that most gamers never consider the option. While written tutorials for Pet Rescue Saga can be really good and can bring in really helpful advice, it is always better to watch videos. You will quickly figure out how people play the game, which is much more important than you may believe. There are various ways in which you can clear the colored blocks. You have to start from the bottom and then move your way up. Such pattern building tips can only be gained from videos. That is something that you have to understand at all times. Have patience and you will always be able to get a lot better in Pet Rescue Saga.