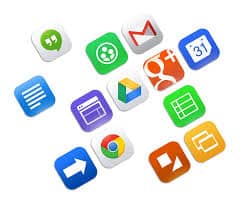 There's an app for getting your work done, and there are apps to remind you when something is due. There are apps for nearly everything, and if you aren't using them you are missing out on their great time management benefits. With Windows 10, you can even have apps right on your computer to keep you going productively throughout the day.
Whether you're on a computer, or you're working with a tablet, or you're on the go with your smartphone, apps can make your life, and your work day, so much easier. Which apps you chose will depend on what you need them for. There are apps for content management, time management, and even apps to help you manage your team.
Google Apps
The Google suite has given businesses almost everything they need in the virtual world. You no longer need to worry about Microsoft, and it allows all of your employees instant access to documents and more. In fact, many virtual businesses are relying greatly, and solely, on Google Drive these days.
You can use a shared calendar, create spreadsheets to share work orders, and employees can turn in documents right through the system with no need to fill up your email box. It's available on your computer, and in your Android apps on phones and tablets. Plus, it's easy to use, so it doesn't take up a lot of your time.
Tracking Your Online Time
There are time tracking apps that can do almost anything for you, from blocking distracting websites to reminding you when to take lunch. Before you pick the right one, read some reviews and check out their rating to figure out which is best for what you need it for.
You may like the occasional distraction of Facebook, so you might want a time tracking app that ignores what you do to help you get through the day when you just need a work break. Just remember, use some of those breaks to boost your productivity by getting up and going for a brisk walk, or eating a protein filled lunch to boost your energy.
Managing Your Stuff
One of the reasons you may not want to block out social media during your work day is that you might just be using it for work. Social media is a great way to reach customers and consumers, and to convert "likes" into sales.
Instead of constantly going from social media site to social media site, though, you may want to consider downloading an app that will help you manage your social media sites all in one place. This will help save you some time you can dedicate to some other aspect of the work day.