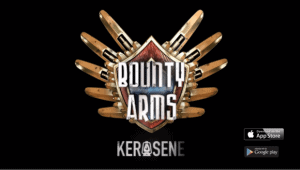 Bounty Arms Kerosene Game Android arrived in Google Play Store .We got a bit 'fond Bounty Arms : it is more than a year to talk about it  and think that in May we had the illusion that the game would be released at a distance of one week after the application  of one of the articles that we have spent. We are talking about Bounty Arms, published by the independent publishing Kerosene Games, the same as Bladeslinger , another title that we really waited a long time. It was originally intended to treat exclusive to Tegra devices , because (this is the "excuse "official) of the graphics engine used, the ' Epic Games' Unreal Engine .The fact is that Bounty Arms has finally arrived on the Play Store and does not carry the words THD: it is therefore not an exclusive Tegra.
For those who have not read our previous articles, here is a brief summary of what it has to offer Bounty Arms. Meanwhile, we anticipate that it is a project that dates back to before 2010 . It is basically ashooter / brawler to scroll , but equipped with some humor skiing, thanks to the sometimes funny weapons we're going to use. The graphics engine, Unreal Engine, is exploited in order to be one of the protagonists of the game.
BEAUTIFUL GRAPHICS
Featured by Infinity Blade developer Epic Games as a technology showcase for the Unreal Engine, Bounty Arms delivers stunningly rich visuals in a detailed 3D environment. As mobile games approach console quality, Bounty Arms raises the bar further.
From the team that brought you iOS Editor's Choice BLADESLINGER comes BOUNTY ARMS, a beautiful, action-packed 3D adventure with simple, mobile-friendly controls. Play as Drake Mass, Goober, or Flux Helix and equip an array of loyal pets to complete quests, win bounties, and defeat epic bosses! As featured in TegraZone!
★ Swat enemies to bits a FLY SWATTER
★ Blast targets with CONFETTI or FLYING PIGS
★ Morph into a monster with Drake's BERSERK MODE
See for example, one of the three characters that we can take advantage of wielding a huge hammer to crush enemies on the ground. The other two characters have very unique weapons that will make it more fun. They are ten in all levels , also characterized by boss and achievements . The levels are well suited to being replayed thanks to three different characters and pet that can bring these characters in battle.In addition, we find patterns hidden in the secret doors and " treasure chests "with additional rewards.
Obviously the game can boast additional effects for Tegra platforms and also is compatible with thecontroller . Bounty Arms is available on Play Store at € 3.76 , and to convince you of its potential worth taking a look at the trailer you linkeremo shortly. Following are obviously also link to the Play Store and screenshots. Have fun!
Bounty Arms Kerosene Game Android Video Review