The fundamental characteristic of any good product is its specific user interface, something like Coolmuster Android Assistant. Its simplicity makes it one of the perfect choices for newbie users. At the same time, it is great to see is that the product plays nice over entire Windows platforms like Windows 8/7/XP/Vista/ 2003/2000/NT.You don't have to go with any other intermediary application while dealing with this one.
Thoroughly updated
It is said that winning is not important, rather maintaining it is. In the same way, coming with a nice product is not always sufficient; you have to keep it upgraded consistently to drag most attentions. Coolmuster is simply up to the mark on this context. It has been already provided with four updates. Addition of functional key for "Backup SMS", upgrading the tool to distinguish Galaxy S4, tweak the message backup function, are among the popular updates, for backup messages, try this guide to backup Android messages to local computer.
Going for upgrading:
The best part of the process is that upgrading the tool is pretty sleek with the product. You can update it at no cost in future.
For making the update, go to Help and click. You can get if the current edition is up to date or not. If it is not fresh enough, you have to download again the current edition for update. You can do it from over the product part. Now you can install the present edition over the system again.
It is here to mention that the registration data you bought for the previous edition is authenticate for the update version.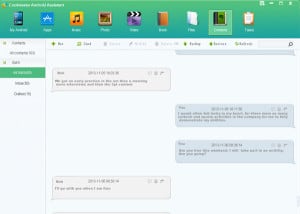 System Requirement:
Your device need to be of Windows 8, Windows 7, XP 64 bit and 32 bits platform running through Intel Pentium 1000 MHz processing unit clocked at 1 GHz. Things can be done with 256 MB RAM, but it is better to have 1028 MB support. There should be at least 200 MB hard disk space available.
The Mac edition is even interesting:
The Mac edition of the product is pretty cool as well. It is an efficient stuff for Android gadget users those are interested in downloading music, video files, message sending, etc. Offering back-up for Android data to Mac can be done efficiently through just a click. Tasks like downloading, installation, addition of contacts, removal, and editing, all can be nicely done over Mac. You can send and reply texts straight from over the Mac.
Perfectly synced with PCs:
The product is quite multi functional in nature. The Android assistant is absolutely able in sending numerous messages from the PCs straight to any phone number. Hence, there is no need of sending texts through mobiles one after the other in a hefty way.
Safety:
There is no need to worry about your data having a product like this. It keeps nice back-up to ensure you feel nothing to worry upon a very minor data loss over the android. The product can be handy in terms of sending the regained texts and contacts and restoring those as readable or print-only formats.
There is the option to add new contact numbers, removing unnecessary numbers, editing the already present contacts over Mac.