South Africa is a fantastic country. Whatever you're into, whether it be food, the great out doors or pampering yourself, you will find no end of activities and events that you will absolutely adore. Not only that, but the local landscapes are nothign short of breathtaking, the people friendly and the whoe country so vibrant that you will never have a dull time.
Sound good? If you decide to head off on a South African adventure, here are some of the most unique experiences you can have there, which will ensure that it's one vacation you won't soon forget….
Hang Out with African Penguins
When you think of South African wildlife, you probably think of elephants, lions of buffalo, certainly not penguins, but if you visit Cape Town, where you can stay at the fabulous Cape Town Marriott Hotel Crystal Towers, and you head tot he Simonstwon area, penguins are what you will find – a whole colony of them in fact. It's a surreal sight seeing them hanging out of the beach, until you step into the cool waters and realize that it's actually perfect for them there.
Bungee Jump from Bloukrans Bridge
Bloukrans Bridge is the perfect place to travel to if you're an adrenaline junkie or you want to do something exhilarating that you will never forget. There is nothing quite like being strapped to a bungee cord and plunging off a 216 meter   beautiful surroundings to make you feel like you're really alive. Yes, it's kind of scary, but you won't regret doing it even for a single second.
Watch the Whales in Hermanus
Book Yourself into The Whale Coast Hotel anytime between June and November and spend your days watching the whales of South Africa as they go about their business in spectacular style from the beaches of Hermanus, or even better on a Southern Right Charters whale watching expedition. You'll be blown away by the magesty of these huge mammals and the scenery that surrounds you.
Spend the Night on a Train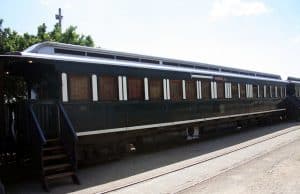 Who needs hotels when you can spend the night on an old train in Mossel Bay? Think how much more interesting your vacation snaps will be when you're spenidng your evenings in a beachside train hostel – the Santos Express Train Lodge– with surprisingly comfy private cabins that cost just £24. It's a unique experience that's great for any budget.
Spend Some Time in the Cango Caves
The Cango Caves are not for th efaint-hearted because thyey can get quite claustophobic at times, but if you;'re looking for a uniwue experiencea nd you're brave enough to explore them, they can be lots of fun. What are they? Well, they're caves that are located inland from the Garden Route and which you can climb, crwal and walk in. They're extremely dark, but as long as you have an official guide and you meet the height restrictions, you should have a lot of fun there.
Have you ever vacationed in South Africa? What were your most unique experiences there? Which attractions would you recommend?