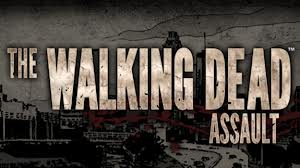 The Walking Dead Assault arrived first and foremost on the store dedicated to iOS as it is huge Success there it is launched in Android and is available in play Store Now.The Walking Dead Assault, Game on Android follows the plot of the famous (deservedly) horror show. The game starts right from where begins the story of the show, or the hospital where Rick Grimes wakes up after the incident occurred before "the zombie apocalypse" that shook the planet. Actually, yes we are talking about the show, but the game is inspired, even for graphics and content, the comic book series Robert Kirkman . About the graphics, in full cartoon style, we are faced with environments in black and white with only a few hints of color such as the blood for the interface and for other small details.
During the game we will check all the characters of the most famous series, such as Rick , Glenn , Shane , Carl , Andrea , Lori and many others. We can assemble our " dream team "favorite to go hunting for supplies, enhancements, weapons, ammunition and other things, and to do that you can take advantage of unique abilities of your characters.
EPISODE 1:   DAYS GONE BYE
Play as your favorite characters from the series – Rick, Glenn, Shane, Carl, Andrea, Lori and more! Assemble and choose your ultimate team of four, hunt for supplies, upgrade, and use unique special character abilities to survive against the walker hordes .
The Walking Dead: Assault for Google Play features enhancements over the original, top-rated No1 strategy title. These include additional and enhanced sound and visual FX, new balance tweaks to the game's play difficulty, additional booster items to give you more ammo and health, and the Michonne character update from the original release.
The Walking Dead Assault Download
Download the Game from play Store here