Mobile gaming is rapidly increasing in excellence and popularity around the world.  There's nothing more exciting for gamers than mobility, and technology has progressed enough for our mobile devices to run some pretty cool games.
Mobile gaming is no longer restricted to puzzle games and breaking blocks.  Today's mobile gamers enjoy depth, challenge, and high-quality entertainment.
Get planted in your most comfortable chair, and prepare for the gaming experience of a lifetime.  Here is a brief mention of some of the best suggestions for mobile gamers in 2018.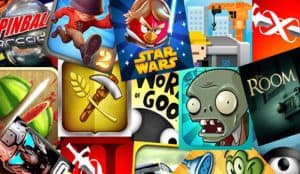 Best Android Games
Crashlands – This game is already two years old, but players still love it. It's been referred to as one of the best Android games ever.  Play the game, and decide for yourself.  Crashlands features an intergalactic trucker trying to make his way on an alien planet, where he crash-landed.
Minecraft – Minecraft is popular across all different platforms, so why not play it on your mobile device? Build stuff, break stuff, and trap random farm animals in 8-bit creations. The mobile version of Minecraft is pretty respectable when compared to the PC and console counterparts.
Super Mario Run – If you need your Nintendo fix, Super Mario Run will give you a few moments of pleasure. You'll have to pay to play this game, but it's one of the best built games on Android.
Pokemon Go – Continuing the legendary run of Pokemon, the mobile game is enthralling for Pokemon enthusiasts. New updates and much better running speeds have made this game quite the contender.
PUBG Mobile – One of the most competent shoot-em-up mobile games ever released, PUBG Mobile will not disappoint. This game has over ten million downloads, and the number is still rising.  Enjoy great graphics, efficient controls, and engaging gameplay all for free.
Best iOS Games
Alto's Adventure – The look of this game is unique, and the soundtrack is worth turning up the volume.  Alto's Adventure features one-touch controls as your guide Alto at high speeds down the slopes on his snowboard.
Battlelands – This is the mobile supplement for your Fortnite urges.  Battlelands Royale lets you pick your drop point on the map, and parachute down to forage for weapons, shields, and other players.
Shadowguns Legends – Shadowguns will remind you of Destiny in the way it displays and the gameplay.  Plow your way through story missions, and upgrade your armor and weapons as you go.
Hearthstone – If you're already a fan of World of Warcraft, Hearthstone compliments the fascination with a digitized card version of the game.
Superbrothers: Swords & Sorcery EP – This particular mobile game is nearly eight years old and still running strong.  It has been described as beautiful, sad, strange, and adventurous.  The pixelated artistry of the game is tantalizing to the eyes, providing hours of entertainment.