Mobile gaming has very quickly risen to become one of the most dominant sides of the gaming industry as a whole. While once it was a platform primarily for "casual" games, like those you would find on Facebook, now it's a true platform to apply to all gamers, even the most hardcore of them. Beyond the Candy Crush and the Gacha games, there are core franchises like Sonic, Final Fantasy, Minecraft, and more making the platform their home But the platform also brings with a few unique challenges. If you want to seriously game on your smartphone or tablet, you need to get used to them and find your way around them.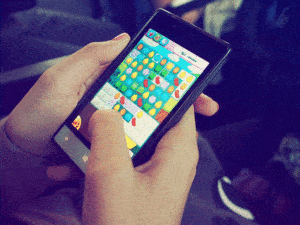 Comfort's a concern
There are a lot of games making it a lot easier to spend hours gaming on the smartphone and tablets. They've almost entirely replaced portable consoles like the DS. But some would argue they're not built for gaming as specifically as those consoles. In some cases, this can mean a few uncomfortable kinks. For one, smaller screens often mean a gamer has to lean in closer to get a good view, but electronic light in a leading cause of eyestrain. Keeping the area around you well-lit or using tools like gaming glasses is essential. Many people also have trouble with the shape of the phone cramping their hands and even leading to repetitive strain injury. If you have a smaller device, it's worth considering the game controller add-ons you can fit to your phone to give you a more traditionally comfortable gaming session.
Just… one… more… game
With the migration of core games to mobile devices comes the gaming habits that tend to come with them. Competing for your highest score or your best speedrun, getting engrossed in your exploration of a roleplaying game's world; it's easy to spend a very long time gaming. So long that you don't notice the battery warnings before suddenly the screen goes dark. If you're not close to a charger, it's an entirely deflating experience. That's why every gamer should look into how to improve their battery life, when they might need a replacement, and even portable chargers to keep them in the game for longer.
The dark side of gaming
There are a lot of games on mobile devices with the market growing every day. However, we should be more concerned with where we get our games and our other gaming apps from. For instance, there are plenty of problems with untrustworthy games linked from nebulous sources. Even if it's on a reputable store, do your research on any game before you download it, especially if you're buying it. Plenty of would-be developers launch games with highly misrepresentative marketing in order to get some quick bucks. Similarly, be careful if you download any "cheat apps" or pay for cheat codes. You have to be not only a smarter gamer but a smarter consumer.
Savvy gamers don't ignore the issues that can unexpectedly ruin their fun. They know them and they know their ways around them. Hopefully, the points above help you do just that.