Who would have thought that the entire working system will transform one day just because of the spread of disease? Due to the pandemic, the working environment for organizations and their employees has entirely changed. It might sound that work from home is much easier, but the reality is that it is complex to manage a large team of employees.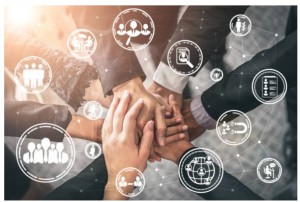 So, what alternatives do you have to strengthen communication and organize work from home? Unified communications services are the solution that all organizations need to adjust to this new wave of organizational function changes. To understand how unified communications can improve the working from home culture, you first need to understand what it is all about.
What is unified communication services?
To meet enterprises' modern age communication needs, unified communication software, equipment, and tools help build a sound and comfortable communicating ability between managers and employees. Intelligent Communication or Unified communication offers you practical tools like instant messaging, VoIP, screen sharing, audio-video conferences, and employee productivity assessment in a workday.
How have unified communications services simplified and enhanced work from home?
Unified communication service or UCaaS offer one centralized platform where employees of the organization can communicate using different modes of communications. When there is one single platform that allows you to have streamlined communication, why would you spend time wasting working around building systems that are less effective?
UCaaS has promoted greater productivity in employees and the following are the benefits you can achieve from it.
Seamless and enhanced collaboration
Generating ideas when sitting in the same room is not always necessary. Now that businesses are running digitally, employee collaboration can also take place online with the effective tools and software offered by unified communications.
Switching between video conferencing, emails, chat, or audio calls are relatively easier. Managers can remain connected with employees through one central network and discuss the day-to-day activities to know what is happening within the team.
Increases productivity with mobility
Now that employees are not restricted to their desks in offices, they have more mobility. Having more freedom certainly increases the productivity of employees. They will be quicker in responding to text, email, and call. If you're ever paranoid that they are slacking off at home you can find solutions like performance management software to put away your fears. You may even find out from performance software that your employees are hitting performance targets more often thanks to their increased mobility.
Real-time Responses
Unlike the legacy phone systems that were not portable, the UCaaS platform uses the features that are accustomed to traditional phone calls. For example; when you missed a call from a team member, the message used to go in the voice mail. With UCaaS, the voice mail is generated in the form of an email and can be found in the inbox section.
Better Integrations
It is no hidden truth that technology has empowered employees to work efficiently. You may assign multiple technology platforms to your employees to meet their everyday needs in the organization. You can integrate those tools and technologies into the UCaaS so that you can have all the data and information at your fingertips.
Consistent Reliability
The VoIP tool used by unified communications helps in consistent communication. With analog phones, it is difficult to always be connected with employees. But with UCaaS, you get a dependent solution for always being able to connect with anyone from anywhere.
If you are wondering whether you should invest in unified communications services or not, then you should re-read the post to understand how it is an aid for your business. UCaaS is the future of remote working and growing industries.