Dear readers, today I have something new to show you, for the shopping apps section. It is about food, something that we need every day at least three times. For those times that you are not up for cooking, or you just feel very lazy, or have people at home and want a nice pizza or Japanese food for example.

Already present in 32 countries, Foodpanda is opening new cities every month. In India, the service will expand to Kolkata, Ahmedabad and Chennai. Currently available in 14 cities including Delhi, Gurgaon, Noida, Faridabad, Ghaziabad, Mumbai, Hyderabad, Pune, Bangalore and Chandigarh with a 2400 restaurant network.
Customers from these regions are able to choose from Foodpanda's greatest variety of cuisines, including restaurants like Subway, Pizza Hut, Punjab Grill, Awadh, Lazeez, Hyderabadi Biryani, etc.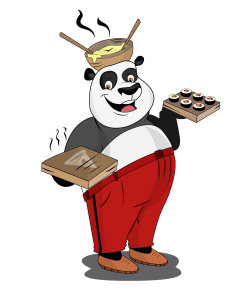 Talking about restaurants, in their database you could find from the most famous restaurants like Pizza Hut or McDonalds, to the small but high quality restaurants that offer typical Indian, Chinese or other cuisines. All available for you to place your online order, with a short delivery time, they do not want you to wait too long.
Foodpanda  is the solution, the key for those moments, let me explain how it works; First of all, using their website, or downloading their App for Android or iOS, either for tablets or Smartphones, you will need to write your city and area. After that, every restaurant, divided by cuisines, will show up for you to choose which one you want to try. When you choose one, you will be able to see their online menu, information of the restaurant, and their reviews that previous customer have written, this, in my opinion, is a huge advantage for us, the customers, because it is the way to make an idea about the quality and the delivery, and could make a difference with other companies. After deciding, choose the payment method, like credit card online or cash on delivery, and then, just wait a few minutes until the food arrives!
Any question you may have, on their website, they have a live chat tool, to ask anything you may need, and this is very important, it is a great way to show that the company cares about the customer, and are there for them.
One recommendation we give to you is to always check their social media channels, they used to have many offers and discounts that will make your order cheaper, which is always great. Good food for less money is something we always love.
From here, we fully recommend their service to everyone that has the opportunity to order food on the go and try the service. It is really reliable and effective. They are nowadays present in 14 cities, so, if you are lucky, and live or visit one of those countries and try the service, please, give us a comment below and tell us how it went. Enjoy your food!