Holo Text Clock makes you look at the time in a different way. The display is a grid of letters, of which some are illuminated. Read out, they form a sentence describing the current time in five minute intervals, for example  It is five past ten. Four lights at the bottom indicate the minutes to be added to get the exact time.
Our App of the Day is a special widget that could be called as clock, but in reality it is far from the usual square analog to digital, allowing you to keep track of the time. The developer Matthias has recently launched  Holo Text Clock  that,  which provides you with a square with many letters placed inside.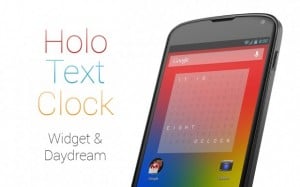 Widget
Place the resizable  Holo Text Clock widget on your home screen or lock screen to always have a look at the current time. You can define what happens when you tap the widget, so you can, for example, still directly launch the system alarm clock app.
Daydream
Use Holo Text Clock as your screen saver to have a beautiful animating clock display instead of a black screen. When your phone is charging or docked, Daydream prevents it from turning the display off after the display timeout and displays a Holo Text Clock screen. Daydream is only available for Android 4.2 and up.
Check Here: Ping Pong clone!
App
As a convenient way to keep an eye on the current time and as a Daydream alternative for Android < 4.2 users, the app can also be started from the launcher. The status bar and navigation bar are dimmed to entirely focus the clock display.
Languages
The clock is available in six languages: English, German, French, Spanish, Italian and Dutch.
Themes
The app comes with seven beautiful color themes installed: Holo Dark, Holo Light, Holo Blue, Holo Violet, Holo Green, Holo Orange and Holo Red.
Conclusion
One way to view the time decidedly different, original and interesting. The app is available for free from the Play Store, but you can download Holo Text Clock from the virtual store at a price of € 0.79 .