Pill Reminder
Android developer has just reported a new application. Andrea Canevari has launched its first title Play Store especially useful to those who need to remember to take pills every day. Pill Reminder is an application that helps you to remember to take your pills. Set the pill cycle, the stop days and time of notification. It will do the rest
As we understand the name, the purpose of this application is a reminder for medicines. Pill Reminder provides you with a calendar and lets you add the new pills to take. In that you can add the name of the medicine, set a color reference (all colors available), the start date of the beginning, the end , and the cycle of administration.
Click Here: Bounty Arms Kerosene Game Android
The calendar will be on the first screen of the application, so that  it will show you the shot of a certain color that will represent the various pills. You can also access the complete list of drugs included and, if needed, you can either add new or delete existing ones. There is the ability to set notifications that will alarm you at a specific time, so you'll never forget to take your pill. It will be also possible to set a specific ring tone .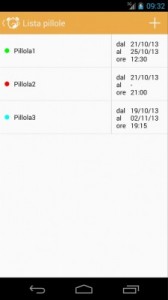 Features:
– Ads free
– Multi-pills support
– Configurable notifications time with time zone support
– Ability to enable / disable notifications at all times
– Ability to change the beginning and the end of the cycle at any time
– Gestures support
– Supports all Android 2.3 Gingerbread and later
– Supports portrait and landscape display mode
Application is complete and free for Android!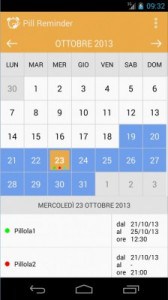 Conclusion :
Pill Reminder is a simple, user-friendly and reliable app that reminds you to take your daily medical pill.Supports more than one pill a day (single pill multiple times a day) and let you choose the sound alarm