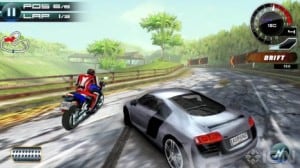 Today's phones have come a long way and can accomplish much more than the original models, including gaming. Some of these 2015 Android phones are the best for gaming whether it is a mobile game like pokker or a demanding graphics games like Tomb Raider. But which is the best overall phone?
Nexus 6
This is the most current version of the Nexus and by far the largest with a screen measuring just shy of 6 inches. Gamers prefer a decent size screen and this phone won't disappoint – coupled with an amazing resolution of 2560 x 1440. With only 15 minutes of charging you can get up to six hours of battery life says the website, which will be pleasing to those who simply cannot live without their phone and are always on the go. However, it doesn't come cheap which may put many gamers off.
Sony Xperia Z3
Gamers will find that this particular smartphone has one of the best battery-lives around, gaming can be demanding on power, so having a battery that can last is ideal. With a 5.2 inch screen, this is an idyllic gaming phone. It has high-res audio making it great for those who like to play games with the sound on and the bright screen allows for a clear imagery when playing games. The phone not only functions well, but look modern and stylish making it perfect for those who like their phone to make a good impression. Like most Sony products, this comes reasonably priced which makes it even better value.
Samsung Galaxy Note 4
With a screen measuring 5.7 inches, expect to experience online roulette in lifelike clarity. Another benefit of this phone is the included S pen stylus which many gamers will find helpful to use. Keep in mind this phone isn't cheap but worth it if size is what you demand. It also comes in a choice of three colours and the battery is fast charging according to the creators, meaning you can go from 0% right up to 50% in the space of half an hour, perfect for gamers who can't be without their phone for too long.
LG G3
For those wanting an Android gaming phone with top features at a lower price, this might be an option. The G3 has a sizable screen of 5.5 inches with four times the pixilation of other devices, which makes the image crisp and clear for any serious gamers looking for a good image. It may not look as attractive as the other phones in this list but, it still looks stylish and the plus points of this device make it a great gaming phone.
Samsung Galaxy Edge 6
This powerful phone can handle gaming tasks with ease. It has three storage options which many gamers may find helpful if they plan to save games on their device, you can choose from 32GB, 64GB or 128GB. With dual edge display, this is a great phone for gamers. The screen is vibrant making the images clear for anyone who wants their phone for gaming. The sophisticated look means the device not only performs well, but looks the part too. Again this phone prides itself on a quick charge, with the website saying that approximately 10 minutes of charging allows for almost four hours of use.
The Verdict?
Given these recommendations, which phone is the best? Hands down the best option would be the LG G3 – this phone will appeal to budget minded gamers who want a lot of phone for little money. The clear imagery onscreen coupled with the large screen will mean gamers will get a good picture at a great size.