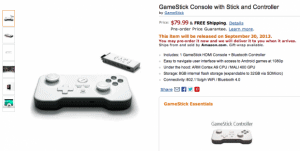 As reported by Amazon, the portable console / Pennine HDMI GameStick should be available by the end of September. The conditional, and therefore a trace of skepticism is due to the fact that it is not the first slip immediately from this project , which was first arrive in June, then sent back to the beginning of August  and now has gone even further.
The company has tried to keep the interest alive in the meantime with some short teaser video , which now, however, have arrested more than a month ago. In any case, the console should be in the hands of lenders by mid-September , and then come later on the virtual shelves of Amazon and other retailers.
We therefore hope that this is the definitive date and of course they can be put hands on him for a good review / comparison with OUYA.
Pilot Run
A quick update to let you know that we have successfully completed the initial pilot run. The controllers are fantastic – the changes we outlined in the previous post have all been incorporated and we're confident you're going to be really happy with the result. We are now poised to go into full production.
These samples are now undergoing final testing and the initial results we are getting back from China are looking very positive. John – our owl-like CTO, (on account of his attention to detail and exceptionally bushy eyebrows), – is on the ground overseeing the proceedings.
Kickstarter units will start to come off the production line this month with fulfillment happening in batches as they are produced. We now expect the last of the units to be with owners by the middle of September. Following delivery to you, our early backers, we will focus on fulfilling our growing retail orders.
User Registration
Our registration program re-started yesterday after a brief pause meaning you should have now received an e-mail inviting you to create your account which includes reserving your PlayTag and confirming how you would like to be recognized in the credits.
This has been and is a big project but we have now entered the final straight and will will not take the foot off the gas for a moment! Many thanks for your continued support!