Thanks to Zombieland, Shaun of the Dead, and The Walking Dead, zombies are one of the biggest obsessions.
Android has many zombie apps, but we want to share with you the best of the best. These apps are interactive, a little gross, and filled with realistic zombies.
What makes one zombie app greater than the next? Design. BlueRocket mobile app design is one of the companies that can offer a clean, brilliant design to make your app standout among the rest. And that is why these zombie games are all so amazingly realistic—design.
Here starts the list: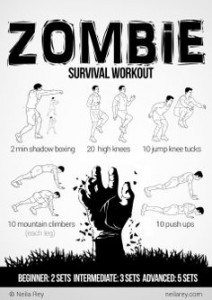 1. The Walking Dead Dead Yourself App
This app is fantastic because you can now see yourself as a zombie. The app allows you to take a photo of yourself, friends, and even pets in order to see what you will look like as a zombie.
2. Zombiewood
In this app, users have to defend Los Angeles from a zombie apocalypse. During the game, you can test out over 30 different weapons, 20 different movie plots unfold, and there are 10 different gaming modes for a seemingly endless gaming experience.
3. Stupid Zombies
Zombies are attempting to take over the world so the player is humanity's last chance for survival. Because ammunition is limited and you have to figure out how to ration what you have, this game is challenging and requires strategy.
4. Zombie Smasher
Zombies are invading your neighborhood and you have to smash the zombies before overtake and kill you. With over 60 levels and different gaming modes, this app is an experience you will remember.
5. Zombie Run
Temple Run is taken to the next level with zombies as players need to awaken the zombies and escape from them. This game is set up in the same format as Temple Run but it completely revamped to offer a whole new set of challenges with zombies.
6. Earn to Die
This zombie game is also a strategy game because you must build a car that will not run out of gas or boost before the game ends. While killing zombies, you have to strategize how to run your car to keep it filled with gas to the end.
7. Bomb the Zombies
The main premise of this game is to bomb as many buildings and zombies as you can without hurting any of the hostages. There are over 90 levels and 6 stages that are continuously updated.
8. Zombie Terminator
Your city is being terrorized by zombies and you are the only hope. As the terminator, it is your duty to take out every zombie (before they kill all of the humans) by using different weapons.
9. The Walking Dead Assault
The show feels as if it has come to life because you are interacting in it as your favorite characters.
10. Call of Mini: Zombies
Here you are having to save a town infected by a virus that turns people into zombies. This game can be done on your own and with other people which makes the experience that much more fun.
There you have it: the 10 greatest games to satisfy your zombie obsession.