Staying in touch with people has never been easier, but what are the best ways to do it? Not every app is suitable for business use. These types of users expect extra features that personal communication apps don't necessarily require. Personal messaging apps are also a little different with fewer group chat options and other features like emojis and smileys that business-oriented apps don't always see as necessary.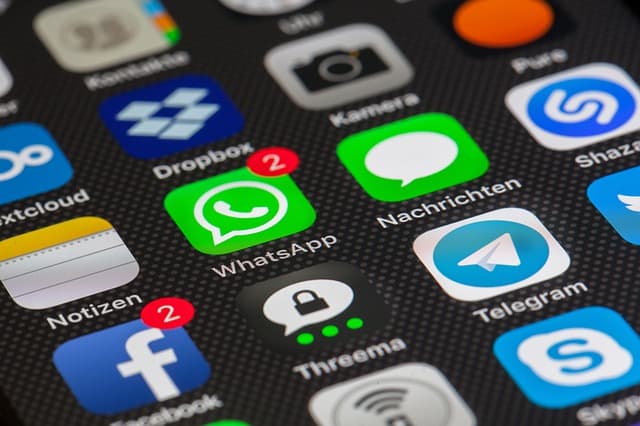 Here are some of the better communication apps available for your Droid.
Roundtree
The Roundee app is newer than some of the other ones on our list. It is aimed more for business users although it's perfectly accessible for friends to video conference together too.
There's a useful recording feature to capture up to an hour of video conferencing if it's necessary to keep a record. For teams, there's a useful invite feature which can be sent over a Slack account.
Calls can be initiated through multiple web browsers in different platforms including Android. Roundee works in Chrome, Firefox, Opera, Safari and other browsing apps.
Signal Private Messenger
Signal is an easy app to use when you want private conversations. It supports end-to-end encryption to ensure privacy when you want it. Text messaging works best in Signal, but it can also function with a group chat session for private team meetings over text.
SMS texts can be pulled into Signal to avoid using the built-in Messaging app with Android devices. However, these messages won't benefit from encryption. This app is simpler than some others reviewed, but that's its beauty. However, it is still possible to dispatch video clips and make voice calls too.
It's available for Windows, macOS, iOS and Android. There's even a desktop version for the Linux operating system too.
Telegram
Telegram has gained a strong group of personal users over its 4-year life. The cloud-based communications tool takes advantage of the public cloud along with VoIP communication technologies to provide simple, safe messaging.
There's now more than 200 million users and Telegram runs on Windows, macOS, Linux and, of course, Android too.
Slack
Slack has steadily become the group communication tool for business teams. It's ease of use for small teams and large enterprises has ensured its wide adoption. Slack now has integration in many other apps that like to provide communication access to their users.  
The communications tool is cross-platform and shows no sign of slowing down. Anyone working in a team probably has at least one Slack account by now.
WhatsApp Messenger
WhatsApp Messenger is huge in many countries around the world. It's become a de facto second phone number in many respects, especially in third world countries.
You may have heard people say, "WhatsApp me" when asking to be messaged there. It's more of a personal communication tool rather than a business one at this point. Nevertheless, many mom and pop stores in emerging markets now quote their WhatsApp contact details alongside their phone number.
Facebook Messenger
Facebook Messenger barely needs an introduction. Originally part of the Facebook app, it was separated and launched as a standalone app a couple of years ago. Used by both personal and business users alike, Facebook Messenger is ubiquitous for quick messaging and communicating with people from Facebook Groups.
There are as many communication apps for Android as there are personal finance ones. It depends on what you want to do with the app (contact friends, chat with the team or video conference) as to which messaging app is best. Usually, you'll need more than one to cover all your bases.